My Column
5G route is a net gain for our business
Date: Monday 27th May 2019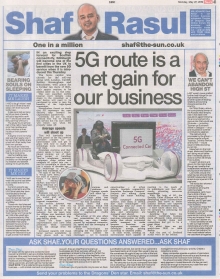 In an exciting step forward for Scottish connectivity, Edinburgh will become one of the first cities in the UK to benefit from the new 5G service when it is introduced this Thursday.
The city was chosen for the rollout along with London, Cardiff, Belfast, Birmingham and Manchester, with plans for a further 10 more cities to be added later on in the year.
This new superfast mobile internet won't initially come cheap to the consumer, as a new device will need to be purchased in order to reap the benefits of the high speed connection.
Nevertheless, there's no doubt that 5G represents the next decisive forward for unparalleled connectivity.
Currently, EE are the only network who will be offering this service but I'm sure others will follow suit when 5G properly takes off. That will inevitably drive down prices as the big network providers compete for our hard-earned cash and get to grips with how to make the technology more cost-effective over time.
Nowadays everyone and their granny seems to have a smart phone sticking out of their back pocket or handbag. They're telephones, cameras, computers, video callers and notepads all rolled into one – and it's incredible to think that just a couple of decades ago this technology in our hand was undreamt of.
For kids of the 80s, it would have been the stuff of science fiction – up there with Marty McFly's time-travelling Delorean or Blade Runner's incredible cityscapes.
Business can now be done anywhere in the world, and all that's needed is an internet connection. The mobile internet was launched in 2001 with 3G when Blackberry was at the forefront of the industry. Just one year later the iPhone was launched which rapidly took over as the number one most sold phone.
There are three major improvements that have been promised when customers make the change from 4G to 5G.
Increased capacity will mean better service availability in busy places such as train stations and stadiums.
Average speeds will shoot up - almost three times what were initially offered when 4G was launched. Finally, there will be lower latency, which will be of great benefit for those who play online games and enjoy augmented reality.
The advent of 5G also offers vast potentialities for smart-enabling our cities, underpinned by enhanced connectivity, speed, and the leveraging of greater data.
Smart technologies are changing the way highly connected cities address the challenges – not to mention opportunities – of urban growth.
Scottish connectivity specialists Exchange Communications are among those leading the 'smart building' charge.
The company's managing director, Tom Sime, is certain that such technologies will increasingly help our cities to allocate resources more efficiently and improve how data and information are managed and shared.
This means everything from real-time information on traffic delays that allows automated public transport to make smarter decisions on deployment, to systems that determine energy pricing according to demand peaks.
In other words, an environment that's capable of reacting to the needs of its inhabitants and efficiently allocating resources accordingly.
With the help of 5G, the Scottish Cities Alliance will be developing smart infrastructure projects that serve to better connect devices and improve data-driven decision-making.
I don't know about you, but I'll certainly be embracing the benefits of 5G. Anything that helps me conduct worldwide business more efficiently while allowing me to literally make new connections has got to be a great thing.
It's about time we got world-class WiFi in Auld Reekie, and the rest of Scotland surely won't be far behind.
SIDE
Last week's news spelled further bad tidings for our high streets with yet another spate of leading retailers announcing closures across the country.
Sir Philip Green, the controversial owner of the Arcadia retail empire, was in hot water with regulators again following the announcement of a rescue plan that would see 23 stores, including Topman on Buchanan Street, shut and its pension scheme contributions slashed.
The restructuring proposals by the group – whose brands include Topshop, Dorothy Perkins and Burton – would result in 520 jobs being put at risk.
Elsewhere on the high street, Marks and Spencer isn't fairing much better after it revealed plans to close a further 25 Simply Food outlets across its portfolio.
It wasn't all doom and gloom for the high street though as it seems that independent retailers have swung back into fashion.
Last week a study into retail figures showed that 34,500 independent high street shops opened in the past year.
The study also showed an encouraging confidence amongst the nation's smaller shopkeepers, with more than a third of them planning to open another branch in the next 12 months, and 30 per cent intending to employ more staff.
As much as I enjoy the convenience of online shopping, it is hard to beat fantastic customer experience instore, something my Amazon Prime account can't deliver on.
I for one would certainly be sad to see our high streets deteriorate any further and would encourage readers to show their support for their local traders before we lose them all together.
LAUGH
I had to laugh this week when I read that one in three Brits still sleep with their favourite teddy bear.
It was reported that as many as 34 per cent of adults still sleep with a soft toy every night, while 15 per cent admit they can't sleep without it.
The study found almost half of the nation have held onto their teddies and dolls, whether at their house or their parents' home.
A slightly more worrying stat was that nearly one in 10 say they'd rather share a bed with their teddy than their own partner. As much as I loved my teddy during my formative years, I'm sad to announce that he is long gone.
Had he made a reappearance I would have probably run the danger of my nearest and dearest asking me to get stuffed.
WEEP
I was sad to see that last week the pound had fallen to its lowest level for five months – and it's bad news for holidaymakers.
Currency experts say Brexit uncertainty and the US-China trade war have contributed to the recent fall.
Typically this has occurred just as many holidaymakers get ready to head off for the late-May half-term break.
Those who had planned to save money by avoiding the peak July/August costs will be disappointed to find that their money will not go as far as it did a few years ago.
At some airports, they will find an exchange rate little better than parity between the pound and the euro.
Despite the increased rate, I don't blame holidaymakers taking the financial hit just to get a break from Brexit!
If you like this content please Check out my videos click here to visit my YouTube channel.