My Column
Timing is never perfect for road LEZ travelled
Date: Monday 6th March 2023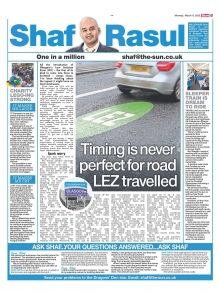 As the introduction of Glasgow's Low Emission Zone (LEZ) – the first of its kind to come into force in Scotland – creeps closer, I've been thinking about the impact it might have on local businesses.
From June the LEZ will be fully enforced in Glasgow City Centre, with Dundee, Edinburgh and Aberdeen set to follow suit next year.
In practice, this will mean all vehicles entering the designated LEZ will need to meet certain emissions standards or they'll face a penalty charge. Fully electric vehicles, motorcycles and mopeds will be allowed, as well as diesel vehicles registered after September 2015 and petrol vehicles registered after 2006.
It's hoped the scheme will encourage people to opt for less polluting vehicles or even move away from private car use altogether.
We've known this was coming for several years, but now the first one in Scotland is imminent, I've got to admit it's got me a little bit nervous.
Don't get me wrong, I know we can't underestimate the importance of taking steps to reduce harmful emissions, with pollution in Scotland's cities reaching levels that exceed the legal requirements. It's clear that some kind of change is necessary.
But there's another challenge being battled in our city centres at the same time. Businesses are struggling to get customers through the door and the 'death of the high street' continues to be well documented.
With less customers choosing to go into stores in-person to do their shopping, and hospitality businesses shutting down left, right and centre, I understand why there are concerns about the timing of introducing measures that may put more people off visiting their city centre.
Business leaders have been outspoken about their concerns since the plans were first unveiled and have called for delays in introducing the scheme in order to give the city's economy longer to recover from the pandemic.
Companies which rely on vans have also called for financial support to allow them to upgrade their fleets to more modern vehicles which meet the necessary requirements. Taxi drivers with older vehicles will also effectively be forced off the roads. While some financial assistance is available for business owners, many claim it simply isn't good enough, and believe the LEZ will make trading in the city centre incredibly difficult.
It's even been claimed that we may experience a rise in motorists using fake number plates in order to disguise their car's age and avoid fines – something which has happened in other parts of Britain where emission zones have already been enforced.
The introduction of such significant legislation will always spark worry and debate, and in this instance I completely understand the concerns of business leaders who'll be impacted by the new low emission zones.
I'm also concerned that the necessary infrastructure isn't in place to support those who'll be impacted though. In theory, the idea of people using public transport more is great, but I'm not convinced we have a strong enough bus and rail system in place to make this feasible for the majority of people.
You might argue that electric vehicles are increasing in popularity, now accounting for more than 20 per cent of new car sales, but they cost a pretty penny. It's unfair that those who can't afford these newer cars will be disproportionately affected, as well as pensioners, who are more likely to own an older vehicle than those who are aged 25-44.
It was recently confirmed that over £36million has already been spent on the plans to introduce these zones across all four cities – an eye-watering sum at a time when individuals and business owners find themselves in need.
But I also feel conflicted because I appreciate that if we want to reduce carbon emissions, it's clear that drastic measures are necessary.
We could keep putting off doing something until such times as it becomes more financially viable or more convenient but who knows when that will be. We've got to ask ourselves honestly – will there ever be a 'perfect' time?
Side
Travelling across the UK's West coast rail network from London, through key cities and right up to the Scottish Highlands, the Caledonian Sleeper service is one of the most recognisable and iconic forms of transport to grace the nation.
There's nothing more wonderful than commuting overnight from the hustle and bustle of the Big Smoke, catching some Zs and waking up in the your destination. It sure beats a red-eye flight.
But Sleeper's ways of working will be derailed soon, with discussions h3eld about taking the service into public ownership.
A decision was made last October to cut a contract with Serco, seven years earlier than its 15-year franchise was originally agreed, following Serco's request to the Scottish Government for increased funding following a £69million loss.
We all know ScotRail fell into public ownership last year and the jury is split on how these services have since been conducted.
However, all that truly matters is that the opportunity to revitalise the Sleeper service is grabbed with both hands, because it would be a real shame to lose this vital and special connection between Scotland and London.
We'll see how this rolls out in the coming weeks but I hope the Scottish Government has the vision and ability to truly maximise the potential of the Sleeper service. If they can make it work, I'm all aboard.
Laugh
It's fantastic to see the events industry building itself back up brick-by-brick, with more events than ever making a welcome return.
This past week, organisers of one of Edinburgh's most playful phenomena, Edinbrick, revealed they're returning this May with even more toys to play with.
The not-for-profit LEGO Model event is always hugely popular because it's not just brilliant fun – it also raises money for the Fairy Bricks Charity, which donates LEGO sets to children's hospitals across the country.
After raising more than £4,000 last year, the event has been extended to two days, and is a prime opportunity for budding builders and LEGO fanatics to enjoy a day out.
It's incredible to see more Scottish events building on their recent success and growing to become even bigger.
Weep
Just a few weeks ago I was talking about the huge struggle charities are facing when it comes to attracting funding in the current climate, and one of the latest victims of these struggles is the iconic Mary's Meals.
Due to a reported 'decline of income and rising operation costs' the charity, which serves school meals to children in some of the world's poorest countries, has been forced to shut down all of its shops and its warehouse, as the operation is seemingly no longer viable.
The charity's six shops across Scotland, whose funding efforts go towards supporting with the preparation of meals, are all expected to close permanently in September.
Mary's Meals has made a plea to the people in these local communities to continue supporting in any way they can once the shops close. I hope they get the support they need because they carry out truly awe-inspiring work helping to feed desperately hungry children.