News Article
E-net Park Industrial Estate Linlithgow...Our Ebay Village is a bit special....
Published Date: Monday 7th March 2011
Associated Links: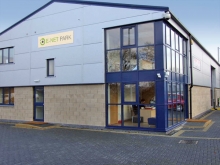 At the height of the property boom five years ago I developed E-Net Park in Linlithgow.The prime site comprises 30 hi-spec industrial units ranging from 800 to 3800 sq ft, for sale or rent. However like many business parks across the country, it has suffered during the downturn.I'm not going to lie - it was becoming a bit of concern to myself and my finance director.It simply wasn't sustainable for us to keep on subsidising what was planned to be a shrewd long-term investment.The situation therefore required some out-of-the-box thinking - yes I decided to take my own advice and we came up with a cracking idea.With so many SMEs going to the wall, our challenge was to get businesses into the park that were exploiting the recession.And that's when we came up the concept of creating an incubator village for eBay traders, a business community where each of the traders can share resources including shipping and supply chain with favourable rental terms that will support their growth.
I'm delighted to say the project has taken-off and the park is now 80 per cent full.We now have 12 traders who have moved their part-time operations out of their garages and spare bedrooms into modern commercial business units.Chris Jack, 33, of Edinburgh has been trading on the web for two years, selling a wide range of goods from hair and beauty products to electricals and clothing.But he has scaled up his operation in a big way since moving into the park three months ago, and now directly employs four people within his online stores purplepumpkin and ukclearancebargains.
He is also currently converting one of his units into office space to manage his customer service and back office function.Chris told me last week that the move has been made possible through significant savings in his courier and distribution costs, which has been secured through negotiating a joint-carriage account with the other traders."If we send out 30,000 orders a year, and can save £1.50 on each order, that represents £45,000 that we can re-invest in the business," he said.That's an incredible saving and should give him the working capital to expand his operation.
We also have 24-year-old Steve Sneddon from Bathgate.Steve lost an eye in a bottle attack and was forced to retire as an electrician.But rather than feeling sorry himself, Steve viewed the life change as an opportunity to grow a successful eBay business.He now has a supply chain as far as China, trading discount homeware and electricals to cash starved consumers through sssuperstore2010."Just a few months back I had boxes and goods all over my house stacked to the ceilings, but now I am operating within a modern commercial facility," he told me."From my perspective, being in the park has given me real discipline in running and growing my own business."I have also been introduced to a number of new suppliers and it's great to bounce ideas off the other traders."Steve is now shifting so much stock that he is on the verge of growing out his two 75 sq m premises, he also has plans to establish a tropical fish business selling from a retail unit within the park as well as an online platform.
Craig McMeechan of Alloa is moving 300 parcels a day and employs 16 people across three bustling units covering 540 sq m.Before moving into the park, the 27-year-old operated wholesalejoblotuk amongst other ebay stores out of his bedroom and garage."As well as the significant savings on courier costs, I've also been able to enhance and secure my supplier network, giving me access to greater levels of high quality stock," he told me.
As you can see we are creating a strong and vibrant business culture within the park, and more importantly creating jobs.Sharing carriage as well as best prices on the electricity and even bubble wrap has reduced the traders' overheads to a level where they can afford to pay a commercial rent.From our perspective we are letting units at a time when nobody else is.I don't see any reason why the model can't be easily replicated in empty units across the country.And Chris, Steve and Craig have shown that you can develop a successful eBay store by working hard and responding to consumer demand.
Click Here to visit E-net Park Industrial Estate Linlithgow.