Blog Post
Selling Kangaroo Pizza Online Gave My High Street Shop Traction.
Date: Thursday 13th October 2016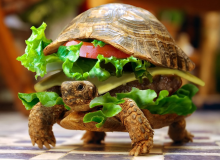 Selling Kangaroo Pizza Online Gave My High Street Shop Traction.
As you may have read in my last blog, there has been a lot of press recently on the death of the high street – but some occupiers are positively thriving.
For this blog, in the same way as the last one, I decided to speak to some of our clients and find out why they are doing well when others aren't, and if there are any lessons to be learned for entrepreneurs, property investment companies and developers when looking at their success stories.
Last week, I had the opportunity to speak to Maciek Troscianko, the CEO of The Real Pizza Factory. Maciek has just opened two new 'pizza showrooms' as he calls them. One of them he happens to rent from SRA Ventures.
Now here's the unique thing about Maciek - he doesn't consider himself to be a retailer. Instead, he considers himself a tech entrepreneur. How can a guy who runs a pizza shop be considered a tech entrepreneur, you might well ask? I asked Maciek that very question to give budding entrepreneurs a few pointers.
Prior to setting up the Real Pizza Factory, Maciek ran the Kublai Khan restaurant. The restaurant wasn't doing particularly well so Maciek decided to leverage the staff and the kitchen and set up an online pizza-only business. The new business grew exponentially and Maciek gave up the restaurant to concentrate solely on the pizza business. To complement the pizza business, he has now opened some pizza showrooms on the high street. At the peak of the business, Maciek delivers up to 10,000 pizza per month! Here's how he managed his astounding growth.
Out brand the big brands….
Maciek said: "When we first started out, we were an online-only business and we didn't have a physical store. Branding and image was very important to winning the trust of potential customers and retaining the ones that we had won. Every aspect of our business oozed professionalism, from the way we answered the phone, to the way our staff dressed. When we opened our pizza showroom on Gorgie Road, we made sure we looked unique to give it the image of a rustic pizza shop and ensure there truly wasn't anything comparable on the high street. The big pizza chains have the same look and feel, while every Dominos outlet looks alike no matter wherever you go in the country."
Tip from Shaf: Hiring an expert to do branding does not need to be expensive. There are hundreds, if not thousands, of branding experts on freelancer marketplaces who can do high quality branding for less than the cost of a good night out.
Innovate, be quick and gain traction
If you have an idea and your research indicates that it will work, then go for it. Believe in yourself, and your vision, and that you will achieve your goals. Don't sit around, or someone else may beat you to it – and use technology to quickly build scale. Technology should be an inherent part of any start up.
Maciek said: "All of our marketing is done online, all our order processing is done online, and social media recommendations play a huge part in our sales growth. We use standard off-the-shelf packages such as MailChimp and Mandrill to do our online marketing which we bolster with SMS marketing. The biggest challenge we faced was when we set up; how do you get people to try a new product in a fairly saturated market from a brand they have never heard of?
"We decided to try a fairly well-tested concept - that of the loss leader - and put a 21st century spin on it. We offered free pizza delivered to your home, and encouraged people to share it via their social networks and smartphones. Anyone that goes to the website can order a pizza and have it delivered to their home free of charge. You can imagine how this spread like wildfire on social media. Our cost of customer acquisition was initially very high. However, we now have a database of 10,000 repeat customers."
Tip from Shaf: A 'loss leader' is defined as a product on which you lose money, but through which you also generate sales of other products. Does it work well? You can be the lab rat - go to http://www.therealpizzafactory.co.uk/free-pizza-fb.html and order a pizza free of charge that will be delivered to your door. If you reorder, then loss leaders definitely work!
Be unique and Creative
"We feel our menu is one of the most unique available. We offer exotic pizza toppings such as Kangaroo, octopus, caviar and Venison. People are often attracted to the idea of getting something different from a boutique, independently-owned business. Our marketing made great play of the exotic options that were available on the menu.
One of the reasons why I wanted a chain of pizza showrooms in high footfall areas throughout Edinburgh - aside from the fact that it allows us deliver quicker – is that it allows us to roll out a revolutionary new product. We wanted to create a pizza which people could have while they were on the move. We wanted to completely revolutionise pizza as a street food and we came up with the 'Pizza Cone'. Gone are the days of eating messy and impractical pizza slices in the street!"
Note From Shaf: Please note the picture used in this Blog is not real it has been 'Photoshopped'. No tortoises were hurt in the creation of this Blog.